In early 2018, VERIDIA went into the studio to record 10 songs for their full length album, The Beast You Feed.
In June, the band released 3 clips of songs from the album, letting fans vote in which one they wanted to be the first single. The songs were "I Won't Stay Down", "Dopamine" and "Numb". On June 22, VERIDIA announced that "Numb" would be the first single and would be released on July 27.
On June 29, VERIDIA released their PledgeMusic campaign to help with fundraising for the album, which the band would release independently. They offered multiple packages for purchase, some of which included things such as clothes worn by Deena on stage and in music videos and various memorabilia from VERIDIA. The band reached 100% of their goal in less than a month.
VERIDIA announced that they would hold their album release party in Nashville on October 6, 2018.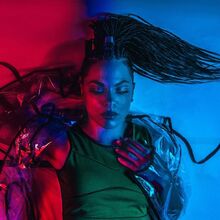 Deena wrote a detailed blog post on the meaning of "Numb" on VERIDIA's Facebook and Instagram. The link can be found here: https://www.facebook.com/veridiamusic/posts/1766513790084759